TABLE OF CONTENTS
A Message from the President
NCTA Conference Wrap Up
NCTA 2021 Awards
NCTA Annual Grants Program
Division Updates
Test Center Certifications


A Message from your President!
Dear NCTA,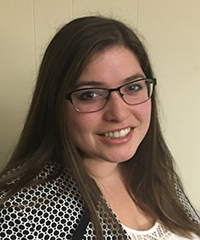 I hope this message finds you well and energized by the new academic year. For the past year, much discussion in our industry focused on the COVID-19 pandemic. Consider where we were last year, facing a new academic year with challenges that we have never had before. From return-to-work plans, health protocols, and expansion of technologies and services, we were pressed to find new ways to meet the mission of our work in what was being referred to as a "new normal" and were overcoming situations in which there was no playbook available.

With things perhaps looking a bit more normal this year, we are still being challenged in different ways to continue our work. Questions have been raised on critical issues such as how do I ensure the safety of students and staff with increasing demand for services? How does the "new normal" contribute to the future of testing and more importantly how can I prepare for that future? NCTA continues to be a valuable resource for members to collaborate and learn from each other, offering support through these challenges.

The NCTA Annual Conference is the ideal place in which NCTA members can learn from each other and tap directly into NCTA's resources. The conference this year was held for the second time in NCTA's history in a virtual format. The program included a robust set of sessions for newer professionals as well as those who have been within the profession for a long time. Recordings of the conference sessions will be made available to those who registered, providing an opportunity to review sessions that you might not have been able to attend live. More information in regards to the conference can be found within this newsletter, such as information on presentations, award winners and next year's conference.

More opportunities will be available in the months ahead for NCTA members to collaborate and support each other. Committees continue to meet, for example, on ad-hoc projects, including The Ideal Testing Center and Best Practices for Dealing with Behavioral Irregularities in Test Administration. Both projects will provide a valuable resource to members. I look forward to sharing new developments on these projects as well as others in the near future. In addition, Governing Council and committees continue to meet to develop future opportunities for members to support each other. More information about happenings within the Governing Council divisions and committees can be found within this newsletter, such as summaries of accomplishments from this past year, newly certified test centers, and exciting new awards coming in 2022.

Lastly, the events and activities that you read about within the newsletter and from NCTA would not be possible without the countless volunteers that serve the organization through Governing Council, committees, or ad-hoc roles. To the volunteers, thank you all for your effort to make NCTA such a valuable assest to its members. We welcome members interested in volunteering to check out the Volunteers Services page under the Resources section of NCTA's website. Committees are always looking for help on projects.

Rachel Hample
NCTA President

Back to Top
---
NCTA Conference Wrap Up
NCTA proudly presented its second, fully virtual conference on August 10-13, 2021. The conference had a peak attendance of 253 individual sign-ins from FOUR countries, the US, Canada, Serbia, and the United Kingdom. The conference opened with six sponsor workshops from College Board, ETS, Examity, Honorlock, RegisterBlast, and Scantron. These workshops were highly attended and received the most chat participation with questions and comments from the membership than any other day of the conference. On Wednesday, ninety-seven percent (97%) of conference attendees tuning in to hear the discourse by  Lewis Sims, our keynote speaker. Over the course of the conference there were 25 additional sessions presented on a variety of topics of interest to the membership, all recorded so that they can be revisited by those who paid the conference registration fee. One hundred sixty-six attendees visited the virtual expo and had on average two interactions a piece with exhibitors who were working the booths.

NCTA Cares, a fundraising initiative usually to help the members of the conference host city, raised money this year for a national cause, Feeding America, an organization that brings awareness to child hunger in America. I am proud to report that NCTA members raised $800 in support of the non-profit organization during the conference. A hearty "Thank You" to all who supported this cause.

The Networking feature of the virtual platform was used by 65% of the attendees allowing them to meet and chat with each other during the conference, while the President's Reception allowed volunteers to meet for games and association with then NCTA President, Rachel Hample. As always, NCTA's social media platforms lit up with attendees playing games, interacting online, discussing conference takeaways. These indicators suggest how much the members miss these interpersonal interactions and long to meet again in person. We long to interact with everyone again at the NCTA Conference in 2022, with dates set from August 15-17, to be hosted in Chicago, Illinois. We hope that everyone in attendance was able to draw great points to take back and implement on their campus and look forward to the weeks ahead as we plan for #NCTACONF2022!

Back to Top
---
NCTA 2021 Awards
The NCTA Awards & Recognition Committee presented the following awards at the 2021 NCTA Conference.  Congratulations to this year's recipients!
Service & Leadership Award
Arrayon Farlough-Rollins
University of Texas- Arlington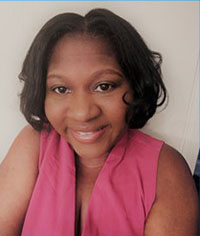 Arrayon currently serves on the Governing Board and is chair of the Professional Development Committee.  She has served as the Conference Co-Chair for the 2019, 2020, and 2021 NCTA Conferences two of which were virtual. Previously she served as the Social Media Chair from 2014-2019 where she expanded the reach of NCTA with the creation of the NCTA Twitter and Facebook accounts.  She has been a member of NCTA for 10 years.  In addition to NCTA he is active with the Texas Association of College Testing Professionals and previously with the Arkansas Testing Association.

Her nominator says she is "committed to the advancement of NCTA.  She brings a proactive approach to her leadership and works diligently to advance NCTA's reach and solidify its legitimacy as an expert in testing through her thoughtful service along with her positive and enthusiastic interactions with those in NCTA."
Program/Innovation Award
Georgia Southern University: Legislative Exams with Respondus Monitor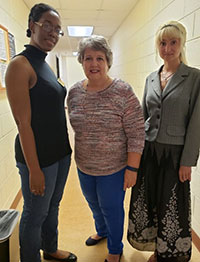 Georgia Southern University Office of Testing Services implemented a new process in two weeks to allow for continuous service to their services when the campus move fully remotely in March 2020 due to COVID-19.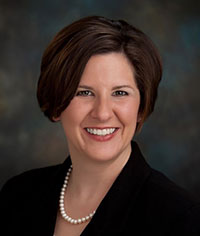 The office created a new process, documentation, and media blitz to students who were required to complete their Legisltive Examption Exam requirements prior to graduation to allow students to take the legisltiave exams through Respondus Monitor which they accesses through the institutions online course platform.  This option allowed stuents who were graduating in May or July 2020 to still meet these requirements from home using a free platform.  After testing the testing staff reviews the videos for any possible academic dishonesty prior to processing their information to the Registrar's Office to update their student record and issue their diploma.  Theresa Beebe Novotny & Patricia Potter complted all the necesary processes in two weeks and sent emails to the students informing them of this option and added it to their Instagram.
President's Awards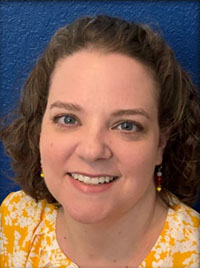 Kimberly Brunnert
Elsevier Education
Corporate Award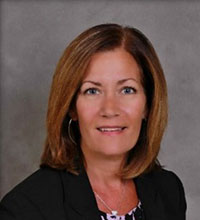 Jan Gonzalez
Purdue University Northwest
Collegiate Award



The President's Award is presented to individuals who have made significant contributions to NCTA or have been of assistance to the President in their duties. The recipients of the award this year have provided unwavering support and guidance. They have assisted in furthering NCTA initiatives and have contributed to the advancement of the organization. In keeping with tradition, two individuals received the award this year, a corporate member and a collegiate member. This year's corporate member is Kimberly Brunnert. Kim serves on NCTA committees and offers her guidance on NCTA initiatives. Her efforts have assisted in decision making, advancing projects, and have assisted in furthering NCTA. This year's collegiate recipient of the President's Award is Jan Gonzalez. Jan was elected to the Governing Council two years ago and assigned to the Growth and Outreach Division. Jan seamlessly took on Growth and Outreach and has completed terrific work in the area, such as developing, administering and reporting the Membership Survey. In addition, Jan has accepted without hesitation additional responsibilities, such as chairing the Strategic Planning Committee. Congratulations to both Kim and Jan.
---
NCTA Annual Grants Program (2021-2022)
Congratulations to the 2021 Grants Program Recipients!
Southern Connecticut State University
Contact: Katie De Oliveira

Grant: This research project will aim to understand the multifaceted issues of access to higher education in our community. With this funding, they will conduct research using surveys, focus groups and archival data to see what factors and barriers impact our community's ability to enter higher education through the realm of standardized testing. During this time, it is also their goal to make connections with the community and those that work closely with the community to create more access to resources and opportunities for their future.

Davidson-Davie Community College
Contact: Alex Peoples
Grant: Learning Commons Testing Staff Training and Development Day

The purpose of this training and development day is to ensure testing staff and testing center policies, mission, vision, and values align closely with those of the NCTA and testing vendors. The goal is to ensure 100% compliance with policies and best practices as well as cohesion of mission, vision, and values with the NCTA and testing vendors. This training and development day is designed to foster and encourage synthesis in Learning Commons Testing Center operations and student support with testing partners.

Southeast Missouri State University
Contact: Sally Carter
Grant: Detection of Fake Identifications: A Comparison of Live Proctors vs. Remote Proctors. The purpose of this project is to determine if live proctors and remote proctors equally detect invalid identifications.

Interested in applying for a NCTA grant? Stay tuned for grant application details coming soon. 

Back to Top

---
Division Updates

Finance
Cindy Meza joined Finance Division in 2020 as Treasurer-Elect and moved into Treasurer role following the 2021 Virtual Conference
Dr. Wendy Shirey, Chair of Grants Committee, took a job outside of higher education. Co-Chairs Kimberly K. Bright and Alex Martinez were appointed in spring 2021. In addition to ongoing members (Erik Arroyo, Kim McCrackin, Bill Thelen, and Roberto Voci), Dr. Amystique Church joined the Grants Committee. Grants awarded in FY 21 were extended for use in the following fiscal year due to impacts of COVID.
The Corporate Committee joined the Sponsors and Exhibits Committee to assist in providing feedback and developing future opportunities for conference sponsors.
Growth and Outreach
The Division's central focus has been the development and execution of a prospect marketing program to increase membership and more fully cement the role of NCTA as an authority in the testing industry.
The division is currently nearing completion of a targeted marketing program for NCTA member prospects. This project includes an introduction to NCTA video, a landing page on the NCTA website, a series of emails and a printed mailer and short video testimonial videos featuring current members.
Newsletter – The Testing Times newsletter continues as a vehicle for communication for NCTA.
Social Media – We will continue to use Facebook, Twitter and LinkedIn for communications and announcements and are considering other outlets, such as TikTok and SnapChat. The group will continue to review outlets and formulate a cohesive plan for social media use and increased usage by NCTA membership.
Membership Engagement
Awards & Recognition- We have two new awards! First is the Volunteer of the Year Award to be awarded to a volunteer on any committee or volunteer status, such as with the conference. Second is the Shout-Out Quarterly Recognition. The Committee came up with a quarterly recognition that only has a certificate sent to the winner(s) and promoted in the Newsletter and Listserv. 
Website- The Website Committee implemented a new website design. Its new dynamic look and feel aligns NCTA with a more modern style.
Partnerships and Collaborations
Partnerships and Collaborations will continue the State Representative model. 
Updated State Representative contact information
Held one meeting to discuss relevant topics with State Representatives
Actively recruited Representatives to fill vacancies (currently 50% full)
Professional Development
Virtual Conference was a success with over 230 in attendance for the keynote and 180 participants playing Social Media Games.
Hosted six webinars including an inaugural book series on Cheating in College. Goal for 2021-22 is to double the offerings.
Added a 4th Special Interest Group (SIG) for Emergency Continuity Planning in Testing. Goal is to host presentations from all SIGS re-introduce them to the membership.
Professional Services
NCTA Proctoring Network – NPN

CCTC is now NPN. The name was changed in order to more accurately reflect the purpose of the committee and to allow potential proctoring clients to more easily find us when they are searching the internet for a proctor.
The NPN webpage has been updated to make it easier for potential candidates to find a site near them that proctors exams.
We encourage all member schools who offer to proctor exams outside of their institution to have your school listed. If you're already listed, please review your information to ensure that it's up to date.
NPN is looking for new members, contact April Imhoff at [email protected] if you would like to help.
CAS Standards

CAS is now a full committee that is focused on helping NCTA members meet CAS standards.
CAS is well known in the higher education community for providing standards and guidelines. Meeting CAS standards is a great way to get recognition from your administration for your Test Center.
CAS is still looking for new members, contact Kristen Vickery at [email protected] if you would like to help.
Test Center Certification – TCC

The Test Center Certification committee has been working diligently even through the pandemic and many schools have been certified or re-certified as everyone has seen on the NCTA list-serve.
TCC now has its first certified test center outside of North America. We look forward to more centers in the future.
Corporate test centers can now be certified
If you're interested in helping TCC, please contact Diane Patterson at

[email protected]

Back to Top
---
Test Center Certifications
Initial Certifications
Duke University
Recertifications
Vancouver Island University
North Shore Community College
North Shore Community College
Nashville State Community College
University of Arkansas - Fayetteville
Kishwaukee College
Florida International University MMC
Oklahoma State University - Institute of Technology
Columbus State Community College - CPT

2nd Recertifications
Three Rivers College

Back to Top