Update from the President
Dear NCTA colleagues,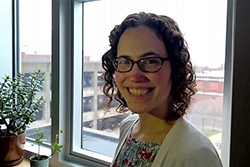 Thank you for the opportunity to serve as NCTA's President (2022-2024). I am honored to be a part of an engaged, supportive, and knowledgeable group of professionals. As I enter my second year of Presidency, I want to thank each of you for making NCTA a resourceful and collaborative space. Your presence and willingness to volunteer are what drives NCTA's mission and goals. If you haven't already, I encourage you to check out opportunities to get more involved (Volunteer!).
NCTA recently hosted the 24th annual conference, this year at the Tropicana in Las Vegas, Nevada. More than 350 members along with corporate sponsors came together to engage in meaningful conversation, share knowledge and perspectives, and form and strengthen relationships that support us throughout the year. It takes many dedicated, passionate, and organized people to bring the conference to life. Each year, as we wrap up conference events, these amazing volunteers have already started preparation for the years to come - site visits, contract negotiations, program planning, communication and social media, coordinating with site staff and partners, recognition of volunteers through awards, preparing technology, and thinking ahead about next year's proposals. My deepest gratitude to the conference committee, and especially Dr. Sally Carter (Professional Development Chair) for a successful and well-regarded conference. A special thank you as well to our Sponsors who helped make the conference possible. 
Conference is certainly one of the most visible parts of NCTA's work – to engage with colleagues in meaningful conversation, share knowledge and perspectives, and form relationships that carry us all through the challenges and opportunities our work presents. But the work of this organization takes place every day, from Governing Council leading the charge, to the many active committee chairs and members carrying out important initiatives, people leading significant collaborations with partners across professional associations, not to mention the support and guidance of our trusted legal, financial, events, and management professionals. Serving as President has allowed me to interact with many incredible people from whom I am proud to learn.
During the past few months, NCTA has completed a number of major tasks, including:
Contracting with a new association management company, Impact AMC, who has worked with NCTA since January. 
In spring 2023, elections were held for incoming Governing Council members (two board member positions and treasurer-elect):

Cathy Jackson, University of Tennessee at Chattanooga, 2023-2026, Growth and Outreach Division serving under mentorship of Naora Ben-Dov
Lindsay Jansen, University of Kentucky, 2023-2025, completing remainder of term for Partnerships & Collaborations Division

Tabatha Spain, Western Kentucky University, 2023-2026, Professional Services Division serving under mentorship of Charity Chia

Theresa Novotny, Georgia Southern University, 2023-2026, Professional Development Division serving under mentorship of Sally Carter
NCTA continues to be at the forefront of professional standards and guidelines in testing. I am excited for this coming year, and getting to share updates on important work with you all. Thank you to everyone that contributes to NCTA's mission!

Sara Rieder Bennett, Ph.D.
NCTA President

Annual Report
Bylaws
NCTA Strategic Plan

NCTA Corporate Committee
Corporate members of NCTA are represented through the NCTA Corporate Committee, which reports to the President. The Chair of the Corporate Committee is Rachel Schoenig, with members Kathie Montognese, Faisel Alam, Scott Greene, and Gini Beran. Corporate members interested in joining can contact

[email protected]

. 

Save