Update from the President
Dear NCTA colleagues,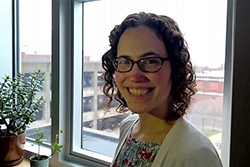 Thank you for the opportunity to serve as NCTA's President (2022-2024). I am honored to be a part of an engaged, supportive, and knowledgeable group of professionals. As I transition to the Presidency, I want to thank each of you for making NCTA a resourceful and collaborative space. Your presence and willingness to volunteer are what drives NCTA's mission and goals. If you haven't already, I encourage you to check out opportunities to get more involved (Volunteer!).

It has been a long while since NCTA members could gather, learn and share our experiences, and make connections. Thank you to everyone who was able to join us in Chicago in August, and a special thank you to our Sponsors who helped make the conference possible. During the conference, my first act as President was to thank Rachel Hample for her incredible leadership during the past two years and I would be remiss not to share with all those who could not attend. We all faced unexpected challenges during this time, responding to a global pandemic, budgetary and staffing uncertainties, and constant adaptation. NCTA is fortunate to have had Rachel unwavering leadership throughout one of the most demanding periods in higher education and testing. Serving in leadership is never an easy task. While there is a great deal of publicly recognized work involved, it is an understatement to describe the work of the past two years as "the tip of the iceberg." Rachel approached her presidency with dedication, integrity, and conscientiousness, and I appreciate the opportunity to work closely with her over the past year as President-Elect, and this coming year as she serves as Past President.

For those attending conference, we also shared the news that Jody Atkins (Operations Manager and Comptroller) is retiring in December. Jody and her company, Association Source, have worked with NCTA since 2015. I hope you will all join me in extending thanks to Jody, and wishing her a happy retirement!

During the past few months, NCTA has completed a number of major tasks, including:
2022-2025 Strategic Plan – With leadership from Jan Gonzalez, the Strategic Planning ad hoc committee and Governing Council completed our new strategic plan. This plan will guide NCTA's work over the next few years, ensuring that we continue to move forward on our mission.
Bylaw update – Governing Council drafted updates to the bylaws and sought member feedback. The bylaw update was approved by membership vote in spring 2022. Members can view and download the latest version here.
In spring 2022, elections were held for incoming Governing Council members (two board member positions and treasurer-elect):

Arrayon Farlough-Rollins was re-elected to the Governing Council this year – moving from Chair of Professional Development, to Co-Chair of Membership Engagement. She will co-chair this division under the mentorship of Diane Patterson.
Tammy Roach has served on the Governing Council previously, and is returning this year as co-chair of Partnerships & Collaborations, under the mentorship of Kim Bright.
Continuing as Treasurer and Chair of Finance Division is Cindy Meza, who is joined by Treasurer-Elect Valentina Burton this year.
Continuing on the Governing Council in 2022-2023:

Growth and Outreach will be Chaired by Naora Ben-Dov, who has served as co-chair this year with Jan Gonzalez
Professional Development will be Chaired by Sally Carter, who co-chaired this year with Arrayon Farlough-Rollins
And Professional Services will be Chaired by Charity Chia, who co-chaired this year with Bill Thelen. Our thanks to Bill for serving on the Governing Council since 2017, as well as his willingness to volunteer on other committees such as Grants in Finance Division. Bill, we appreciate your help and guidance to other members – and your stories and jokes that always manage to trick me.
Governing Council voted to approve a new NCTA Division – Administration – focused on the creation, organization, and distribution of documents and communication, as well as organization and maintenance of historical documents and timelines for NCTA. We welcome Jan Gonzalez as initial Chair of the new division, which will serve a vital role as our current Operations Manager and Comptroller, Jody Atkins, retires in December. NCTA also formed a search committee to seek out a new association management company, and will keep membership apprised of changes.
The Proctor Certification Exam Development ad hoc committee completed the Job Task Analysis which led to creation of the exam blueprint. We are actively working on item development with a great group of volunteers. Additionally, Governing Council approved the formation of the Proctor Certification Committee as a standing committee in the Professional Services Division. The newly formed committee will oversee development of certification policies and procedures, and manage operations of the certification going forward.
With Bill Thelen chairing, NCTA published a white paper, "The Ideal Test Center," as a resource to help members renovate existing centers and design new facilities. Thank you to Bill and to Sherry Machacek for leading a wonderful discussion at the conference as a follow-up to this project.
The Journal of the National College Testing Association Volume 5 (1) was published in spring. Thank you to Dr. Gladys Bennett and Dr. Sally Carter for authoring papers for this volume. Editor of JNCTA, Dr. Steve Saladin, was appointed in the spring. JNCTA is always accepting manuscripts for review.
NCTA continues to be at the forefront of professional standards and guidelines in testing. I am excited for this coming year, and getting to share updates on important work with you all. Thank you to everyone that contributes to NCTA's mission!

Sara Rieder Bennett, Ph.D.
NCTA President

Annual Report
Bylaws
NCTA Strategic Plan

NCTA Corporate Committee
Corporate members of NCTA are represented through the NCTA Corporate Committee, which reports to the President. The Chair of the Corporate Committee is Rachel Schoenig, with members Kathie Montognese, Faisel Alam, Scott Greene, and Gini Beran. Corporate members interested in joining can contact

[email protected]

. 

Save